I'm up to Building #11 in my 12 Buildings of Christmas project. It's hard to believe there is only one more building to complete and then it will be time to do the finishing touches on my Winter Village.
The tags in Linda Coughlin's Fifth Annual 12 Tags of Christmas - Funkie Junkie Style challenge have been a great inspiration and I think I am on track to meet the December 19th challenge deadline.
Here are the details on Building # 11 ...
Inspirations from Linda's Week 11 Tag: Snowflakes and Joy Sentiment
Blank Canvas Building: Building C
I started out with a piece of pattern paper from Bo Bunny's "Altitude" collection.
This paper had a little too much teal for my color scheme so I used a gel pen to go over the dashed line pattern to tone down the teal.
I'm going to cover the snowflakes so I left them the way they were.
Next I found a wooden Prima embellishment from a set of six that was in my stash.
I prepped it with gesso, then added Distress Paint in Brushed Pewter.
I added a little sparkle with my Wink of Stella brush pen and then finally coated it with glossy accents.
I used Tim Holtz' metal Snowflakes on all the snowflakes that will show once the building is in place in the village.
I am going to snip off all the hanging holes at the top and then attach them with glossy accents.
Here are the panels all decorated (the 4th panel is completely hidden).
I also cut some half snowflakes for the edge of the large side that peaks out behind the 12th building, but I'll wait to see if I will use them, or just some stickers once that 12th building is complete.
And here's where this building fits into the village.
So that's building #11 done and I'll post a link on the challenge page.
If you'd like to see the inspiration for my building, see Linda's blog post -
12 Tags of Christmas - Tag #11
.
And check out all the great stuff at the boutique...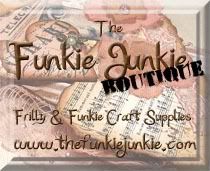 If you want to know more about construction of the Blank Canvas Village, just see
the
post on November 12, 2016
which describes the process and has links to an overview and construction video series on my YouTube channel.
Thanks for visiting!
April