Here's Building #10 of my Winter Village inspired by the week 10 tag Linda Coughlin (aka the Funkie Junkie) posted on her blog in the 10th installment of the
Fifth Annual 12 Tags of Christmas - Funkie Junkie Style challenge.
Here are the details on Building # 10 ...
Inspirations from Linda's Week 10 Tag: Dots, Snow Swirls, Deer
Blank Canvas Building: Building H
I started out with some cream/light gold pattern paper for the background.
Then I added some snowflakes using one of the Tim Holtz mini Layering Stencils - Polkadot from set #20.
I added them on the front and right panels.
I used gesso and then sprinkled on some glitter while the gesso was still wet.
This building is nice and wide so I thought it would be the perfect place to create a little scene using the Tim Holtz Snowglobe die.
I cut out the various buildings, mountains, and trees from different cardstocks.
I layered the pieces with a little wet glue.
Next I cut some swirling snowflakes for the sky using a Memory Box die - Snowflake Corner.
I cut them from glittery paper.
Here are the panels...
I cut three levels of snowbanks from the glittery cardstock and arranged all the elements from the Snowglobe die in a little scene on the front of the building.
I cut the Snowflake corner dies and put them in the sky.
Here's a closeup of the front
And here's where this building fits into the village.
I finished the stoop in front of this building and added a little silver deer.
So that's building #10 done and I'll post a link on the challenge page.
If you'd like to see the inspiration for my building, see Linda's blog post -
12 Tags of Christmas - Tag #10
.
And check out all the great stuff at the boutique...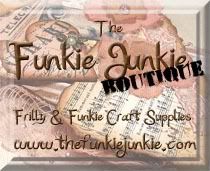 Just two more buildings to go, and then some finishing and the village will be done!
If you want to know more about construction of the Blank Canvas Village, just see
the
post on November 12, 2016
which describes the process and has links to an overview and construction video series on my YouTube channel.
Thanks for visiting!
April