Here's Building #9 in my village - wow there are just a few left of the 12 total buildings to do! I've been having a great time playing with mixed media and embellishments as I work on the buildings as part of the Fifth Annual 12 Tags of Christmas - Funkie Junkie Style challenge.
The challenge is to make something (anything!) inspired by each one of the 12 tags
that Linda Coughlin (aka the Funkie Junkie) designs and posts on her blog,
The Funkie Junkie
in the 12 weeks leading up to Christmas.
.
But instead of "tags", I'm making the "12
Buildings
of Christmas".
Here are the details on Building # 9 ...
Inspirations from Linda's Week 9 Tag: Pine boughs and sparkle
Blank Canvas Building: Building N
Next I used one of Tim Holtz Mini Layering Stencils - Festive.
I used Bo Bunny Silver Glitter Paste on the stencil. I wasn't sure how visible it would be on the blue but it turned out just right.
It doesn't take too long to dry either, which was a great bonus.
I found some TH Christmas Muse Tokens from a previous year in my stash and decided that they might work.
I wanted them to have more of a presence,so I punched some circles out of inked card stock and silver paper, and a smaller dark blue circle to go behind the cut out in the middle of the token.
When everything was dry I used a clear Wink of Stella brush to add a little more glitter.
I doubled up some silver thread from my stash to make the hangers.
I hung them at various heights from the top of the building before adding the roof.
I also used a pop dot behind each one to add some dimension.
And here's where this building fits into the village.
So that's building 9 done and I'll post a link on the challenge page.
If you'd like to see the inspiration for my building, see Linda's blog post -
12 Tags of Christmas - Tag #9
.
And check out all the great stuff at the boutique...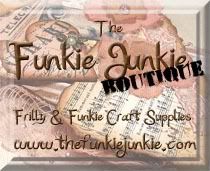 Stay tuned as I continue to finish the remaining buildings in the village.
If you want to know more about construction of the Blank Canvas Village, just see
the
post on November 12, 2016
which describes the process and has links to an overview and construction video series on my YouTube channel.
Thanks for visiting!
April