I'm back with Building #8 in my Winter themed village that I am decorating to play along with the Fifth Annual 12 Tags of Christmas - Funkie Junkie Style challenge.
The challenge in a nutshell: each week, starting in September, Linda Coughlin (aka the Funkie Junkie) presents a new tag on her blog,
TheFunkieJunkie.blogspot.com

.
The challenge is to make something (anything!) inspired by each one of the 12 tags.
Here are the details on Building # 8 ...
Inspirations from Linda's Week 8 Tag: Using Leftovers
Blank Canvas Building: Building O
Linda started out with something leftover from another project, so looking around my worktable, i found lots of leftovers and "rejects" to choose from.
After I embossed my white cardstock panels I used Distress Inks on the debossed side. I trued to use a light touch to keep the inks out of the valleys as much as possible, but I didn't let it worry me if some did. I used Tumbled Glass, Salty Ocean and Faded Jeans.
Next I found some icicles that I had cut out of sparkly cardstock.
I added some glossy accents to make them shiny and set them aside to dry.
For my focal point I decide to use one of the Tim Holtz wreaths.
I added some tiny half pearls for the berries, and then used white ribbon for both hanging and a little bow.
I added some snow banks to the bottom edges.
I wanted the wreath to stand out better, so I used some leftover paper from building four and cut out a ring shape.
I added light blue finishing strips on the edges of the building and attached all the panels.
I put some little foam spacers behind the wreath and took the hanging ribbon and attached it to the top of the building under the roof.
And here's where this building fits into the village.
So that's building 8 done and I'll post a link on the challenge page.
If you'd like to see the inspiration for my building, see Linda's blog post -
12 Tags of Christmas - Tag #8
.
And check out all the great stuff at the boutique...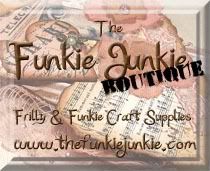 Stay tuned as I continue to finish the remaining buildings in the village.
If you want to know more about construction of the Blank Canvas Village, just see
the
post on November 12, 2016
which describes the process and has links to an overview and construction video series on my YouTube channel.
Thanks for visiting!
April