Building #4 of twelve in the Winter Village which means I'm one third of the way to completing my "12
Buildings
of Christmas" as I participate in the Fifth Annual 12 Tags of Christmas - Funkie Junkie Style challenge.
This building's decorations are fairly simple because only small portions of the upper walls will show once it is placed in the village.
I added the two trees just so the building wouldn't look to stark in this photo - they'll both be hidden by other buildings in the project.
Here are the details on Building # 4 ...
Inspirations from Linda's Week 4 Tag: Poinsettias
Blank Canvas Building: Building I
I started out by painting a sheet of heavy white cardstock with some beautiful shimmery paint - Prima Art Alchemy in Deep Waters.
It's hard to tell in the photo, but it's a rich shimmery metallic color.
Next I did some die cutting using the poinsettia die from Tim Holtz Mixed Media Christmas Thinlet die set.
I cut the die on four pieces of the blue paper because the top of all four walls will be seen once it is in the village.
I tried out various papers to go in back of the die cut areas - silver, white glossy, pearl - but I decided that plain white cardstock was the best contrast with the shimmery blue metallic.
I finished off the edges of the building with white cardstock finishing strips and then attached the panels with Scor Tape.
I checked which poinsettias would show and then added some half round pearls to the center of those flowers.
And here's where this building fits into the village.
I covered the temporary roof with some white glitter cardstock.
I've been testing out different papers for these temporary roofs so that by the time I'm ready to make the permanent roofs at the end of the project I'll be able to tell which ones I like the best.
So that's building #4 done and I'll post a link on the challenge page.
If you'd like to see the inspiration for my building, see Linda's blog post -
12 Tags of Christmas - Tag #4
.
And check out all the great stuff at the boutique...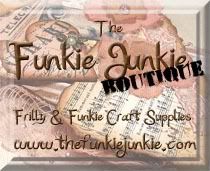 Stay tuned as I continue to finish the remaining buildings in the village over the next weeks.
If you want to know more about construction of the Blank Canvas Village, just see
the
post on November 12, 2016
which describes the process and has links to an overview and construction video series on my YouTube channel.
Thanks for visiting!
April