I'm at the halfway point of completing my "12
Buildings
of Christmas" as I participate in the Fifth Annual 12 Tags of Christmas - Funkie Junkie Style challenge now that I have Building 6 done.
The challenge is to make something (anything!) inspired by each one of the 12 weekly tags Linda Coughlin (aka the Funkie Junkie) presents on her blog,
TheFunkieJunkie.blogspot.com
and get them all done by December 19th.
Here are the details on Building # 6 ...
Inspirations from Linda's Week 6 Tag: Color Palette, Tree Layers
Blank Canvas Building: Building L
I found this paper in my stash and thought it would work just right for what I had in mind for this building.
I used the TimHltz Treeline die to cut both a light matte platinum layer and a white cardstock layer of trees.
I added clear embossing powder to the white layer of trees which will stand in front.
Next I used the small pine branch die from the Tim Holtz Holiday Greenery Thinlets die to cut several branches from white cardstock.
I used the same clear embossing powder on these branches.
Here ate the four panes ready to go on the building.
The bottom only shows on two panels so the trees are only on those panels.
I added pine branches on three sides at the top where they will show when the building is inset in the village.
They come in two sizes but I just used two of the small ones.
I mixed a little white and pearl alcohol inks and then brushed the mixture lightly on the pinecones to look a little like snow,
Because the pinecones are so dimensional I thought it would be best to suspend them from the underside of the roof.
I put the undecorated roof temporarily on the building so I could determine the placement of a hole for the thread.
Once the hole was made and the string secured to the roof, the roof can be notched and trimmed and then covered with decorative paper.
And here's where this building fits into the village.
There's a little stoop in front of this building - I'll probably wait until all the buildings in the area are done to decide what to put on it.
So that's building #6 done and I'll post a link on the challenge page.
If you'd like to see the inspiration for my building, see Linda's blog post -
12 Tags of Christmas - Tag #6
.
And check out all the great stuff at the boutique...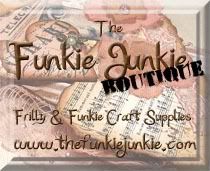 Stay tuned as I continue to finish the remaining buildings in the village over the next weeks.
If you want to know more about construction of the Blank Canvas Village, just see
the
post on November 12, 2016
which describes the process and has links to an overview and construction video series on my YouTube channel.
Thanks for visiting!
April