Here's Building #7 in my Winter themed village. It's the tallest building in the village and stands about 11" high.
I'm decorating the buildings to play along with the Fifth Annual 12 Tags of Christmas - Funkie Junkie Style challenge. In the challenge, Linda Coughlin (aka the Funkie Junkie) presents a new tag on her blog,
TheFunkieJunkie.blogspot.com
every week. The challenge is to make something (anything!) inspired by each one of the 12 tags.
Instead of "tags", I'm making the "12
Buildings
of Christmas", and using my "Blank Canvas Village design.
Here are the details on Building # 7 ...
Inspirations from Linda's Week 7 Tag: Snowflakes, color scheme
Blank Canvas Building: Building K
I started out with some matte finish silver paper from Tonic Studios.
Next I cut out frames from a glittery white cardstock.
These two pieces were layered for the background.
For the snowflakes I used a Memory Box Die called "Frosty Border".
I used the same glittery cardstock as the frame for the background.
Before I cut out the die I backed the paper with Stick-It to make it easier to adhere this intricate die to the background.
Now for some larger flakes.
I had the wooden snowflakes I used for Building Five still on my work table so I decided to use the largest flakes from that set.
I painted them white and then embossed them with a white embossing powder.
To add some sparkle I used some blue and white pearl bling on the snowflakes.
I was careful to keep the bling only in the top areas of each panel where it would not interfere with adjoining buildings.
I used a royal blue cardstock to finish the edges of the building and then got ready to add the panels.
And here's where this building fits into the village.
So that's building #7 done and I'll post a link on the challenge page.
If you'd like to see the inspiration for my building, see Linda's blog post -
12 Tags of Christmas - Tag #7
.
And check out all the great stuff at the boutique...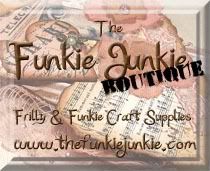 Stay tuned as I continue to finish the remaining buildings in the village over the next weeks.
If you want to know more about construction of the Blank Canvas Village, just see
the
post on November 12, 2016
which describes the process and has links to an overview and construction video series on my YouTube channel.
Thanks for visiting!
April