Here's Building #3 in my Winter themed village.
I'm decorating the buildings to play along with the Fifth Annual 12 Tags of Christmas - Funkie Junkie Style challenge.
In the challenge, Linda Coughlin (aka the Funkie Junkie) presents a new tag on her blog,
TheFunkieJunkie.blogspot.com
every week. The challenge is to make something (anything!) inspired by each one of the 12 tags.
Instead of "tags", I'm making the "12
Buildings
of Christmas", and I'm in a bit of a catch-up mode because Linda's already on week eight!!
Here are the details on Building # 3 ...
Inspirations from Linda's Week 3 Tag: Music Embossing, Doves, and Snowflakes
Blank Canvas Building: Building M
I started out with four pieces of dark blue cardstock. This building is 2" square and the walls are 5" tall so these pieces were all 2" x 5".
I had the Tim Holtz mini stencil "Concerto" so I used some Wendy Vecchi Silver Embossing Paste with that stencil as the background on the sides.
I only did the stenciling on three sides since one side is completely hidden.
Next I looked online for silhouettes of doves that I could use to cut out two small doves.
I used a text stamp to add some texture to the doves
I used one of the Tim Holtz greenery dies to cut an "olive" branch for one of the doves.
I used medium blue cardstock and inked lightly around the edges.
Above the dove you can see one of several white snowflake brads I used on the panels.
Besides the snowflake brads, I also added some dimension cardstock snowflake stickers I had in my stash.
I used medium blue cardstock to finish the building edges before attaching the wall panels.
And here's where this building fits into the village.
I temporarily added a silver roof so you could get the idea of what the completed building will look like.
So that's building #3 done and I'll post a link on the challenge page.
If you'd like to see the inspiration for my building, see Linda's blog post -
12 Tags of Christmas - Tag #3
.
And check out all the great stuff at the boutique...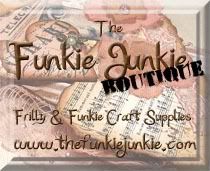 Stay tuned as I continue to finish the remaining buildings in the village over the next weeks.
If you want to know more about construction of the Blank Canvas Village, just see
the
post on November 12, 2016
which describes the process and has links to an overview and construction video series on my YouTube channel.
Thanks for visiting!
April